Original mosquito coil stand
---
Speaking of the Japanese charms of summer, it is "mosquito coil stand" and "Pig-shaped mosquito repellent container".
But we think there are many people who know coiled mosquito-repellent but have never used it after electric mosquito coil become popular. The writer also have used only electric ones so far. When we looked it up, it seems that there are still quite a few cases mosquito coil stand are used for outdoor leisure where electricity can't be used or for people who do not fit the electric type. Perhaps, the real reason is to appreciate the summer taste by using mosquito coil stand.
Speaking of mosquitoes, it has a strong image of summer. But actually it seems that they are the most active in early summer when the temperature is 25 to 30 degrees Celsius, or in autumn from September to October. For the time being, we must be alert to mosquitoes before and after summer.
Also, it seems that mosquito coil stand is used as one of the measures against infectious diseases such as dengue fever abroad. The diseases is also had happened in Japan in 2014, so there is no time to say that got mosquito bite and it's itchy.
---
Products specification (Mosquito coil stand)
| | |
| --- | --- |
| Material/ Finish | Steel plate/ Paint finish |
| Size | W105mm×H88mm×D105mm |
| Weight | 180g (saucer and adaptor) |
| Content | Saucer and adaptor |
※Mosquito coil stand can't be used with only the adaptor of it.Be sure to set it in candlestand and use it.
---
Features
SISIKU mosquito coil stand is completed by putting the saucer and adaptor which fix mosquito coil stand on another product "Candlestand". Adaptor is easy to remove, so you can use the candlestand and mosquito coil stand properly according to the situation. Because you can easily take each part, so it is easy to clean.
The saucer is formed by bending a thin steel board. The material is steel, but it can be the products which we can feel warmth and softness like paper by making it look like it was folded by hand. This product is often held at exhibitions, etc.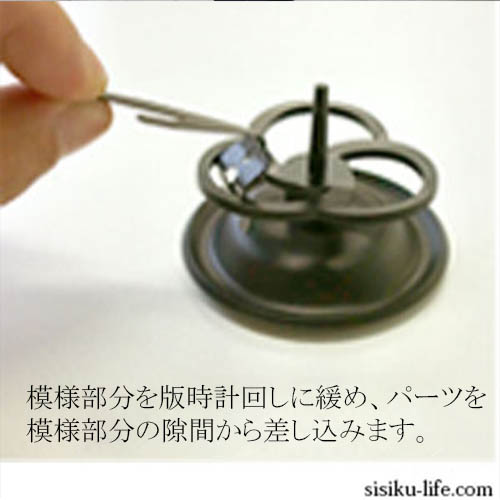 1. Loosen the pattern part on the top of the candlestand counterclockwise.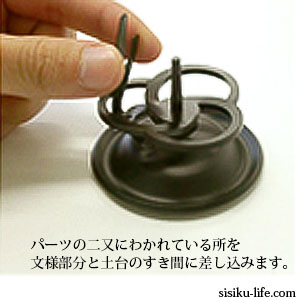 2. Insert the dedicated adapter (loosen in No.1) through screw part.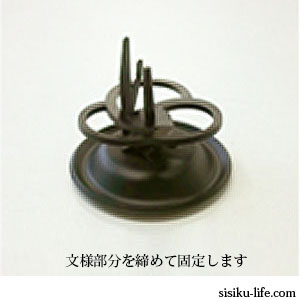 3. Tighten and fix the screw to that the adaptor isn't unstable.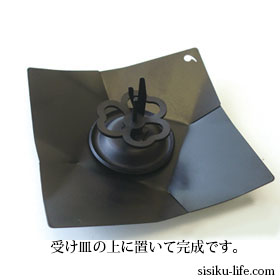 4. Please put it on the saucer and use.