---
How to use Hibachi braziers and necessary tools.
We will explain easily necessary tools and how to use Hibachi braziers this time for the people who think that "I want to use Hibachi braziers, but I don't know how to use it." or "What is needed except charcoal?".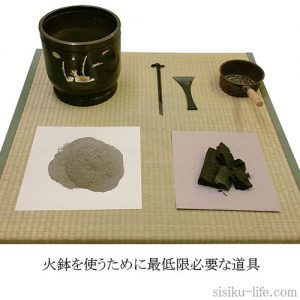 The minimum required tools for Hibachi braziers
You can't use Hibachi braziers without these 6 tools.
---
It would be great if you have.
7. Trivet
8. Iron kettle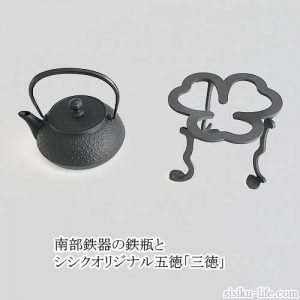 Nambu ironware iron kettle
SISIKU original Trivet "Santoku"
You can warm yourself without these, but boiling water is one way to enjoy Hibachi braziers. 。
---
1. Hibachi braziers
Hibachi braziers can be mainly classified into three kinds of Wooden, Ceramic and Metal.
Wooden: Wooden one is made by hollow the tree or put pieces of wood. Because there are copper plates inside, you don't have to worry about the fire.
Some Hibachi braziers are beautiful with Maki-e and some have large drawers, so there are various shapes.
Porcelain: Porcelain one can be mass produced, and a few Hibachi braziers have been made even now. Latitude of colors on surface is high, and there are various tones.
Metal: Metal one is made of steel, copper, brass and so on.
Many metal Hibachi braziers are decorated and features antique looks that make you feel the years.
Hibachi braziers we sell are all antique. Without even using Hibachi braziers, they are attractive as interior decorations if you display Hibachi braziers, Trivet and Iron kettle together.
There is no heat facility for Hibachi braziers, so please use it for hand warming. If you would like to warm the entire room, we recommend you use both it and heaters or air conditioners.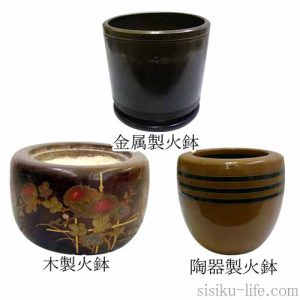 Metal Hibachi braziers
Wooden Hibachi braziers
Porcelain Hibachi braziers
---
2. Ash
Ash that comes out after burning charcoal can control the thermal heat conduction to Hibachi braziers, so you can use even wooden Hibachi braziers with confidence.
For porcelain Hibachi braziers, there will be a crack in Hibachi braziers if you hit Hibachi braziers with burning charcoal directly, so please be careful.
And you can extinguish the fire of embers if you bury it in ash.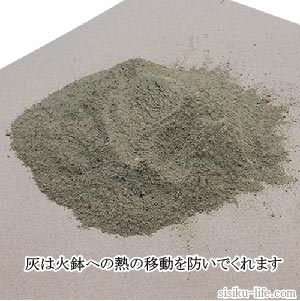 Ash prevent heat from spreading to Hibachi braziers.
---
3. Charcoal
Do not use outdoor charcoal such as for barbecue in Hibachi braziers because it smokes and smells. Please surely purchase the one labeled "Indoor use" for charcoal for Hibachi braziers.
There are various kinds of charcoal such as "high-grade charcoal produced from ubame oak", "sawdust coal" and "black charcoal" for charcoal for Hibachi braziers. Burning time and scent of these are different from each other, so please find your favorite one by trying various kinds.

Attention: In case that you use charcoal indoors, please surely ventilate because you may have risk of carbon monoxide poisoning.
---
4. Fire starter pot
It is necessary tool to light charcoal. Please stove it on the stove with pot or grill, and light the fire. It is dangerous to light charcoal in Hibachi directly, so please stop. You can get the one for recreational activity at the home center easily.
We explain how to light the fire with the pictures.
【How to light charcoal】
Use the fire starter pot or grill to light the fire.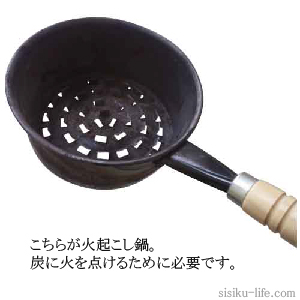 This is a fire starter pot.
It is necessary to light charcoal.
There are holes in the bottom of the fire starter pot.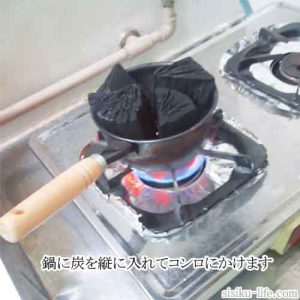 Put charcoal vertically in the pot and set the stove on the fire.
Put charcoal vertically in the pot.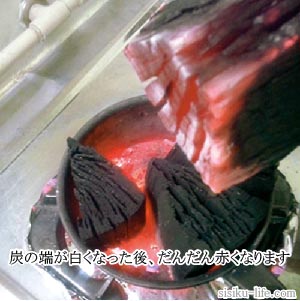 After the end of charcoal becomes white, then becomes red.
The heat is between low and medium. It's OK if the charcoal becomes rea as shown in the picture.
【Estimated time to ignition】
In the 5 minutes: The end of charcoal becomes white.
In the 10 minutes: Move charcoal to Hibachi braziers if a third of it becomes red.
Precautions for ignition
・Do not use cassette stove surely because it explodes.
・Do not look into pot from above because charcoal may splash with cracking.
・Please do enough ventilation during work to prevent carbon monoxide poisoning and bun charcoal well.
・Do not put burning charcoal in Hibachi braziers without ash. If do that, Hibachi braziers burn or crack.
・Do not use the burner and firelighter because it leads to an accident and is dangerous.
How to move charcoal
Use iron tongs to move burning charcoal to Hibachi braziers with ash.
The key points when placing charcoal
Place at least 3 to 5 pieces of charcoal.
The best way of spacing charcoal is "not too tight" and "not too far". The air does not enter well and the fire goes out if you place charcoal too tight. And the fire goes down and out if your place it too far.
It doesn't matter if you stand charcoal, but them bun better if you put them vertically in the Hibachi braziers .
If you put them the fired and red sides facing each other, they burns with each others, so they burn well.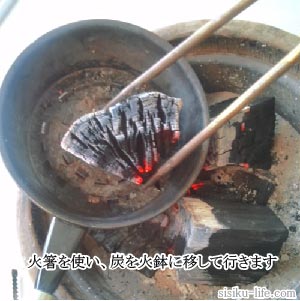 Use iron tongs to move burning charcoal to Hibachi braziers.
Use iron tongs and move charcoal one by one to Hibachi braziers.
---
5. Iron tongs
As this has already appeared in the part of fire starter pot, this is the metal chopsticks to pick charcoal up.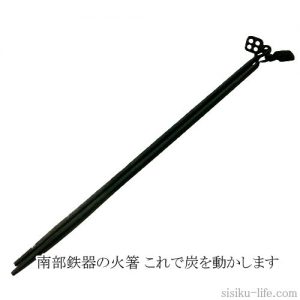 This is iron tongs
Nambu ironware iron tongs
It is used to move the charcoal.
---
6. Iron paddle
It is a pallet to level the surface of ash in Hibachi braziers. The end of it is serrated, but what on earth is this for?...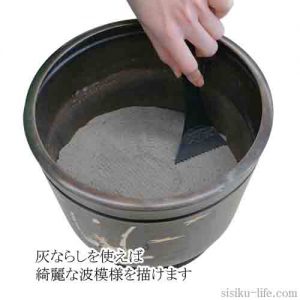 You can draw beautiful wave patterns with this.
Serrated part is for drawing wave patterns on the ash.
It is like court of law of Japanese garden, and is very profound.
---
7. Trivet "Santoku"
It is a stand for placing iron kettles etc. above the ash. Some are with ashtray.
---
8. Iron kettle
Use iron kettle to boil water with Hibachi braziers. The tea brewed with hot water boiled in the iron kettle have especially mild sweetness.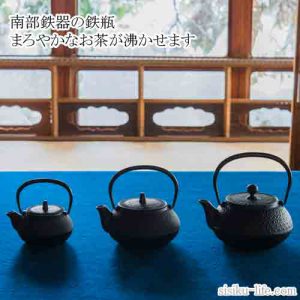 Nambu ironware iron kettle
You can boil a mild tea with it.
If you boil water in iron kettle, it also play an part as a humidifier.
It's perfect for the dry season.